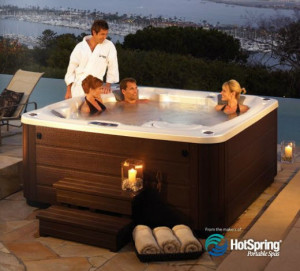 For more than three decades, Hot Spring Spas has been an industry leader when it comes to Hot Springs Portable Spas in Iowa and the Twin City. It all began forty years ago, when our owner, Paul Schaben filled his car with hardware and supplies and headed out west to provide quality products to the folks across the Midwest.
In the early part of the 1980's Paul included in his inventory Hot Spring Portable Spas. Today, he continues to offer a premium product at an affordable price. With a professional crew and knowledgeable staff, Hot Springs Spa is proud to bring affordable luxury to well deserving customers.
It's our main goal to make sure when you buy a Hot Springs Spa that you get it delivered, installed and working as it should- no questions asked.
Paul's commitment to quality and satisfaction still drives the business and with over 20,000 satisfied customers, it's clear why we are the premier full service spa company in the Midwest. Paul is still very much involved in the business and is still engaged in making sure each and every customer has nothing but the best spa experience possible. Please visit us today at one of our exceptional showrooms.
We started in the agricultural business, and our roots are still tied to our community. Whether you're looking for a new part for your John Deere tractor or you're ready to invest in a soothing, relaxing hot tub, we've got you covered at Hot Spring Spa.